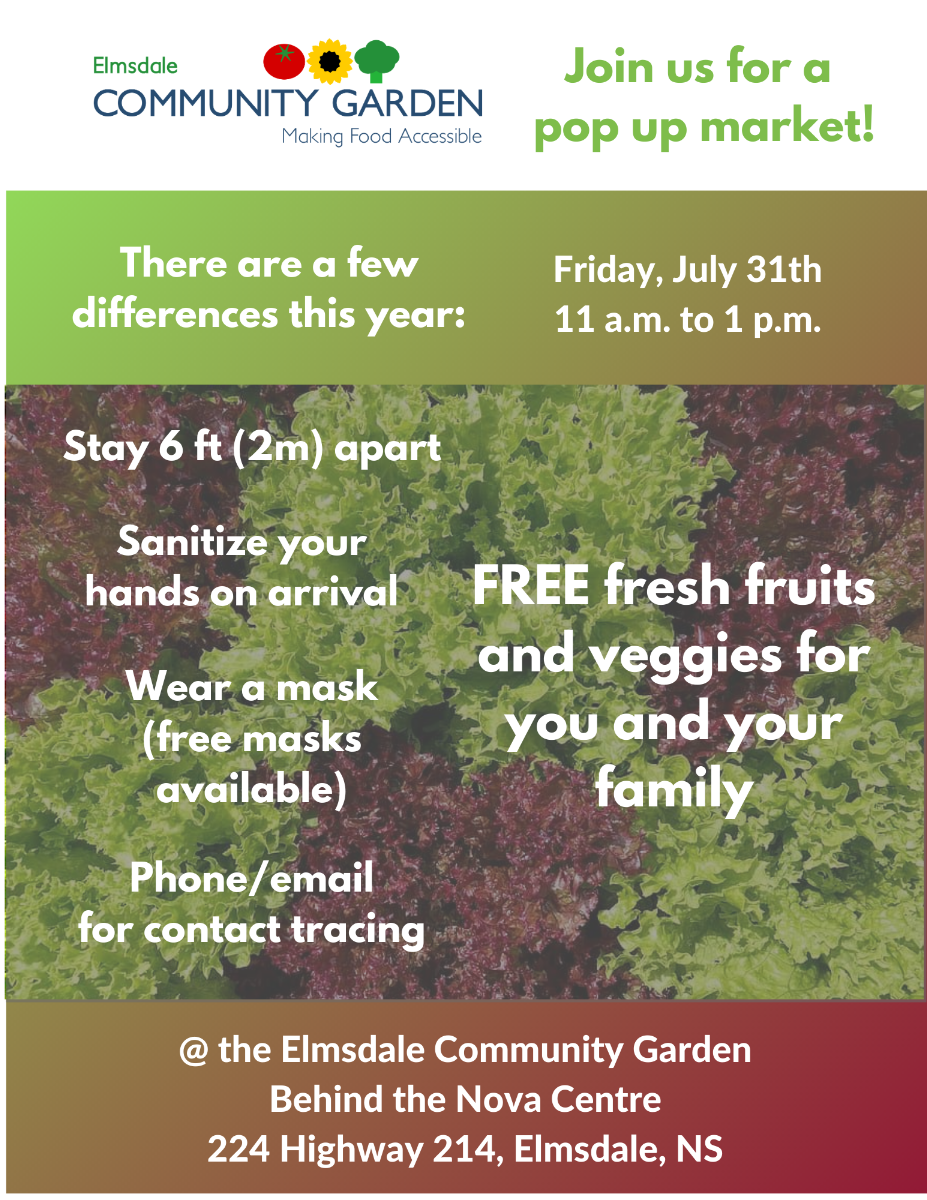 Pop Up Market July 31st
Elmsdale Community Garden is pleased to announce our first pop up market of 2020! It will be on Friday, July 31st from 11 a.m. to 1 p.m. We hope you will join us.
Pop up markets are all about giving back to the community. We have FREE fresh fruits and vegetables, both from the Elmsdale Community Garden and Withrows Farm Market. Everyone is welcome – we all deserve access to healthy food.
This year, we are taking a few extra precautions due to COVID-19:
Spacers to mark 6 feet distance
Hand sanitizer upon arrival
Wear a mask (FREE masks available)
Phone/email for contact tracing
If you have any questions, please let us know. We'll be scheduling more pop up markets in the weeks to come, so keep an eye on our Facebook page. Our next pop up market will be Friday, August 7th from 11 a.m. to 1 p.m. at the Elmdsale Community Garden.
For more information e-mail elmsdalecommunitygarden@gmail.com
FREE Food for All at the
Elmsdale Community Garden
Have you dropped by the Elmsdale Community Garden this year? Everything is growing fast and you are welcome to help yourself to anything that is ready. Never used the garden before? Here's how it works:
Check the whiteboard on the garden shed to see what is ready

Help yourself to some fresh produce

Dispose of any waste in the compost bins behind the shed

Let us know how many people you will feed – email us at elmsdalecommunitygarden@gmail.com. You can also send a text to that email, if it's more convenient
We hope you'll drop by and enjoy this space for the whole community!
To find out more:
check out our website: http://www.easthantslearning.com/community-garden/
e-mail elmsdalecommunitygarden@gmail.com
New Website for Community Rider
The East Hants & Area Community Rider has a new home on the internet: communityrider.ruralrides.ca
EHCR is one of 19 community transportation providers across Nova Scotia. Together, we ensure people around the province have access to transportation in their communities. Each service is connected through the Rural Transportation Association (RTA), a not-for-profit society which provides a forum for us to discuss the needs of our growing services.
The RTA has recently upgraded their website: www.ruralrides.ca. As part of this upgrade, each community transportation provider gained access to their own microsite. This helps people around the province find transportation from one central hub of information.
We're excited to work together with the RTA to promote this new website. Check them out and learn more about the options available across Nova Scotia. If you know anyone who struggles with transportation, one of our services may be able to help.
Need a ride in East Hants, Fall River or surrounding communities?
call (902) 883-4716
e-mail dispatch@communityrider.com
EHFRC Hikes
Looking for something fun and active to do this summer? Join the East Hants Family Resource Centre for a guided hike every Thursday at 9:30 am. It's a great opportunity for you and your kids to get outside and explore different trails in East Hants.
Be sure to register in advance as there's limited space. Prior to attending the hike, check out the EHFRC Facebook page for more info on COVID-19 guidelines.
Contact saraehfrc@gmail.com to register.
Your Way to Wellness
COVID-19 has challenged us all, but for those living with chronic disease, it has been even more trying. However, there has been some light in recent weeks: a program designed to help those with chronic conditions and their caregivers has returned through online sessions: 
Your Way to Wellness
.
Groups meet weekly for two and a half hours for six weeks and cover a wide range of topics, including:
Setting goals and problem solving
Improving communication with health care providers, family and friends
Eating healthier and becoming more active
Managing symptoms
Making daily tasks easier
Improving self-confidence
Managing fear, anger and frustration
Interested in learning more or registering for sessions?
call 1 (888) 672-3444
email 
yw2w@nshealth.ca
Municipal Elections 2020
Saturday, October 17
th
 is our next municipal election. Have you ever considered running? It's a great opportunity to engage with your community and ensure that their concerns are being heard.
To find out more about running and the electoral process for municipal elections, check out the Candidates Guide.
Best of luck to all running for public office!
For more information about the municipal elections:
email elections@easthants.ca
call (902) 751-0588
A Bit of Trivia
What percentage of the world's supply of maple syrup is made in Canada?
Answer: Canada produces on average 71% of the world's supply of maple syrup each year, with the majority of it coming from Quebec. Quebec is responsible for producing 92% of Canada's maple syrup.
This month's question:
How did the month of August get its name?
Check out the newsletter next month for the answer!