Give The Gift of
Food and Transportation
As we move closer to the holidays, family and friends are often top of mind. Between searching for the perfect gift, baking up a storm and perhaps a long-awaited reunion after many months apart, it is easy to see why so many of us are fond of this time of year (myself included!)
When considering gifts this year, whether personal or charitable, keep us in mind. Transportation with the Community Rider can be used by anyone for a variety of purposes:
A ride to the airport
A safe way to avoid parking lot craziness at the mall
A means to get you from point A to B when you don't have a vehicle or don't have it available for the day
Some other ways to give include donating towards a community meal, a donation of gift cards for local grocery stores, or a donation of funds to help us reduce the cost of medical transportation for others. However you give, we will find a way to re-distribute it and help others in our community.
Thanks for being a part of our digital community this year and we wish you all the best for the month ahead. Stay tuned to our Facebook pages for Community Learning & Community Rider, as well as the Elmsdale Community Garden. We hope to have community lunches back up and running in January.
Get in touch if you'd like to donate or learn more:
e-mail: communications@communityrider.com
phone: 902-883-1608
Office Hours Over the Holidays
Our staff will be taking some time off to enjoy the holidays. This includes:
East Hants Community Learning Association
East Hants & Area Community Rider
We'll be offering two days of pre-booked rides with the Community Rider between Christmas and New Years: December 29th & 30th. To book for either day, please call in advance by December 23rd at 12 noon at the latest. Our office will be closed, starting December 24th and will re-open on January 4th.
The Community Freezer
is Back!
With pop up markets finished for the year and the Harvest Dinner past, we're loading up the Community Freezer to keep folks fed all winter long. The freezer is located in our building, the Nova Centre (224 Highway 214) and is available to anyone in need of freezer meals for themself or their family.
Meals are free and we keep a list of current meals updated on the garden's Facebook page regarding what is currently available. To pick up a meal, simply call 902-883-1608 between 9 AM and 3 PM on weekdays and we will arrange a time for you to pick up your meals. The Community Rider is also available to deliver if transportation is an issue.
For more information about the Community Garden, check out the page on
our website:
http://www.easthantslearning.com/community-garden/
EHFRC Christmas Centrepiece
Sale Available Now!
Each year, the 
East Hants Family Resource Centre
 holds a Christmas Centrepiece sale. These lovely decorations for the season are available for $25 each. They are available for pick up on Tuesday, December 7th and Wednesday, December 15th.
Deadlines for ordering are as follows:
Thursday, December 2nd for December 7th pickup
Thursday, December 9th for December 15th pickup
To order, call 902-883-4349 or you can 
order online
 through their website. Payment can be done by cash, e-transfer, or cheque. Supply is limited, so book yours before they are all gone.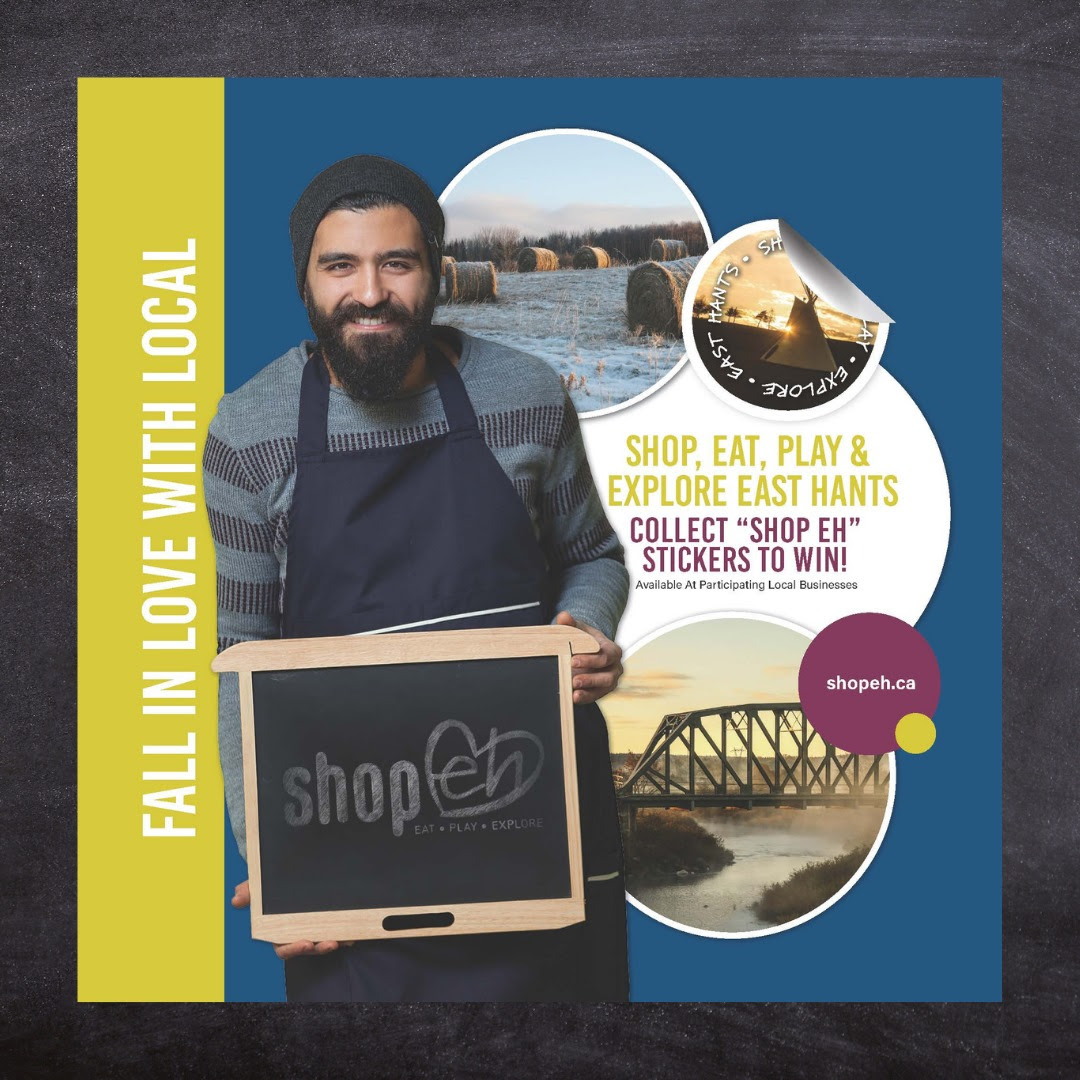 Eat, Play, Explore
Close to Home
We often hear of the benefits of shopping local. Supporting small businesses in our community provides local jobs, fosters a sense of community spirit and allows for innovation and creativity to inspire new growth.
There's other benefits to shopping local in East Hants right now. There are contests through Shop East Hants to win gift cards and swag from local businesses. Some of the contests include:
Winter Program Schedule
Now Available
Wondering how to keep busy this winter? The Municipality of East Hants has released its Winter Program Schedule and there's lots of programs for kids, teens and adults in the Aquatic Centre coming up. 
Did you know the Aquatic Centre has a program to subsidize costs for low-income households? It's called RecAccess and it can reduce costs up to 75% if your taxable income is under a certain amount. Applications should be submitted at the Lloyd E. Matheson building. More information can be found in the Winter Program Schedule.
Looking for more information on municipal services? Check out their website or get in touch:
website: easthants.ca
e-mail: info@easthants.ca
phone: 902-883-2299
Gift Ideas for Christmas
This month's recommendation:
Sometimes, the most challenging part of Christmas is buying for the difficult to please or those who have it all. Here are a few suggestions to prime your shopping senses and get you on the nice list with all your friends and family:
Etsy – Looking for something unique and not sure what to get? Etsy is a great place to start. Whether it's personalized gifts, clothing, crafts, accessories, furniture or something creative, you'll find something interesting. Seller location is also listed, so you can even buy local!
Vistaprint – From custom Christmas cards to calendars to pictures on mugs, Vistaprint is an affordable way to make things personal for great prices. Don't see a design you like? You can create custom designs in Canva for free and upload them to Vistaprint.
e-Books & Audiobooks – Over the course of the last 20 months, many of us have re-discovered a love of reading. Something as simple as a gift card for Kobo, Kindle, Audible or Apple Books can enable someone to access a world of books. Make sure to check their device preferences and give them a few ideas along with the card.
Happy shopping and may the holidays bring you lots of gifts and time with those you love!