March promises to be an exciting month. The new East Hants Aquatic Centre will be opening on Monday, March 16th, 2020! To learn more about the aquatic centre, check it out on the municipality's website: easthants.ca/aquatic-centre. They already have the schedule up and there's something for everyone!

The new pool is designed with people of all ages and abilities in mind. This is something near and dear to our hearts. Everyone should have access to their community, active living and fun for all ages.

With accessibility in mind, East Hants & Area Community Rider can get you to the pool! From children to seniors, individuals or groups, we can connect you with this great new resource for our community.

Peak hours book up fast! Contact EHCR to learn more about our service and book a ride:
call (902) 883-4716
e-mail dispatch@communityrider.com
FREE Rock Painting Workshop

Thursday, March 19th, 2020
(snow date Friday, March 20th, 2020)
10 a.m. – 12 noon
Let's try this again! We had to cancel our previously scheduled Rock Painting Workshop due to winter weather in January. Let's hope March proves more hospitable.
Come and learn how to decorate rocks with whatever your imagine can dream up. This workshop will introduce you to a fantastic hobby for the winter and show you how to connect with a whole community of people. All ages are welcome, rocks and supplies are provided. You can keep your creations or add them to the Elmsdale Community Garden to add some colour before the spring arrives.
The workshop filled up in a matter of hours – WOW. However, you are welcome to add yourself to the list in case anyone is not able to make it. We can also let you know directly when we hold another one.
To sign up, please reserve your spot:
call (902) 883-4716
e-mail communications@communityrider.com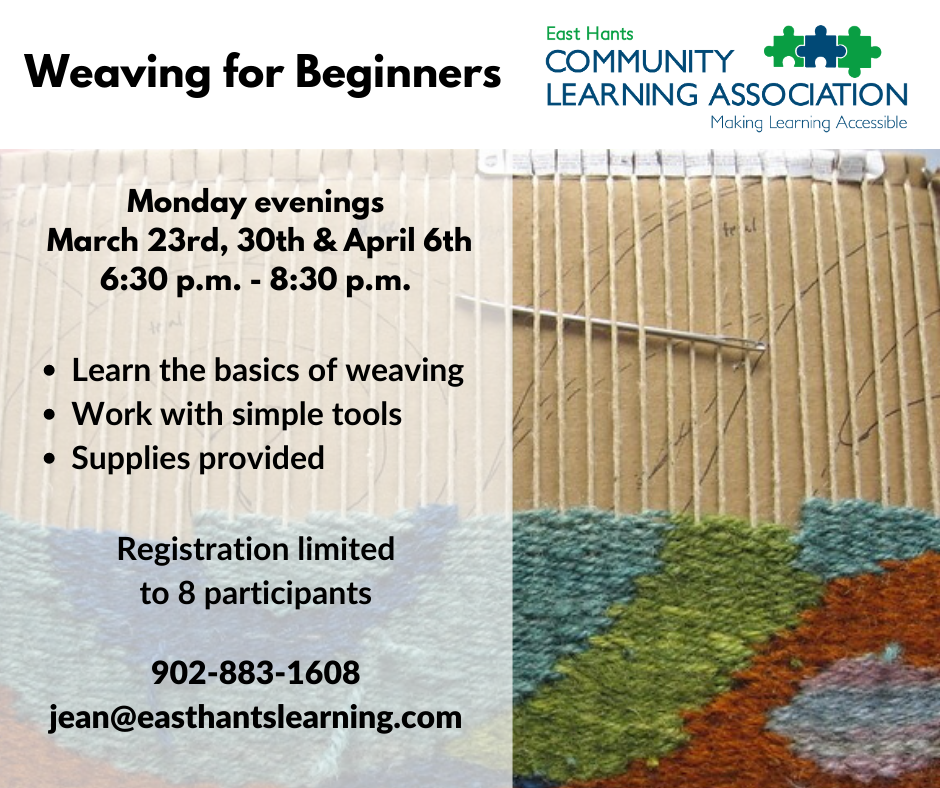 FREE Weaving course for beginners!

3 sessions on
Monday evenings

March 23rd, 30th & April 6th
6:30 p.m. – 8:30 p.m.
Are you interested in learning simple weaving techniques? We have a course for you! It starts on Monday evenings at our office, The Nova Centre, 224 Highway 214 in Elmsdale. You will learn how to use a loom and create simple patterns.
Try something new and maybe you'll discover a new passion! 
Space is limited, so make sure to register ASAP:
call (902) 883-1608
e-mail jean@easthantslearning.com
Your Way to Wellness

6 sessions on
Wednesday afternoons

April 1st – May 13th
1 p.m. – 3 p.m.
Health has a big impact on our lives. If you are facing a chronic condition, it can affect your life in many different ways.
The Nova Scotia Health Authority will be hosting a FREE course focused on facing the challenges of life with a chronic illness. Through strategies and goal-setting, you'll be able to take control. Caregivers are welcome, as well!
To register, get in contact with Kathleen Steele:
call 1 (902) 956-1244
e-mail kathleen.steele@nshealth.ca
Upcoming Events
Get ready for an action packed March Break. EHCLA's adult learning classes will be on break, but there's lots going on in the community.  From Rock Painting to the new pool and more, there's plenty to do in East Hants.
As always, check us out on Facebook for events as they happen.
Friday, March 6th – EHCR Office Hours in Fall River, 11 a.m. to 2 p.m.
Friday, March 13th – EHCR Office hours in Fall River, 11 a.m. to 2 p.m.
Monday, March 16th – EHCLA classes on March break
Monday, March 16th – East Hants Aquatic Centre grand opening
Thursday, March 19th – Rock Painting Workshop, 10 a.m. to 12 noon, (FULL)
Friday, March 20th – EHCR Office hours in Fall River, 11 a.m. to 2 p.m.
Monday, March 23rd – EHCLA classes back from March break
Monday, March 23rd – Weaving for Beginners, 6:30 p.m. to 8:30 p.m., RSVP
Friday, March 27th – Last day to register for East Hants Seniors Games
Friday, March 27th – EHCR Office hours in Fall River, 11 a.m. to 2 p.m.
Monday, March 30th – Weaving for Beginners, 6:30 p.m. to 8:30 p.m., RSVP
A Bit of Trivia
Where in Nova Scotia can you find Canada's
oldest surviving lighthouse?
Answer: The Sambro Island Light at the entrance of Halifax Harbour. The Sambro lighthouse was first lit in 1758, while still under construction. It was completed in 1759 and continues to light the way through Halifax Harbour to this day!
This month's question:
What is Canada's most populated island?
Check out the newsletter next month for the answer, if you can resist googling it!