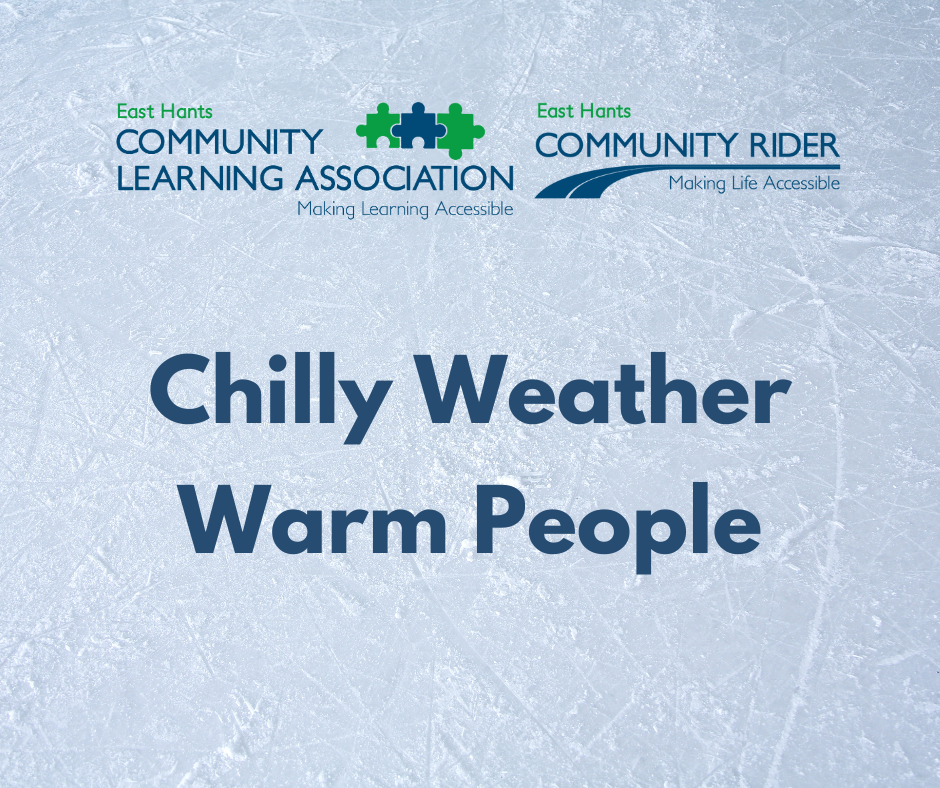 Chilly Weather
Warm People
Fall has arrived and there's a chill in the air. But don't let that get you down. There's still lots of good that happens at this time of year and our programs are filled with warm people that will lift your spirits and stave off the blues.
We have programs and services for people of all backgrounds and abilities:
Everyday English class for anyone looking to improve their English
Technology classes (computer, cell phones and tablets)
GED Preparation (math, sciences, reading, writing and more)
Essential Skills and Training for Workplaces
Community Interest programs (health, wellness, cooking and more)
We also have a variety of upcoming events:
3rd Annual Holiday Sing-a-long,
Shopping Trips to Mic Mac Mall,
Community Meals, and more!
See below for more details on what's coming up soon.
Learn How to
Manage your Stress
Managing stress is an important skill in today's busy world. Would you like to learn skills to find balance? East Hants Community Learning is wrapping up a workshop series on it!
We have one more session this Wednesday, November 22nd. Move Yoga will be leading an introductory session of chair yoga. Space is limited and registration is required. To book your spot, call 902-883-1608 or email ehalainstructor1@gmail.com.
Get Into the Holiday Spirit
With Our 3rd Annual
Holiday Sing-a-long!
New this year: 
Pop up Market
We're kicking off the holiday season with a community favourite. Join us for our 3rd Annual Holiday Sing-a-long on Wednesday, November 29th, starting at 6 p.m. It will be happening on the front lawn of our office, the Nova Centre (old Elmsdale elementary school at 224 Highway 214). We will have hot chocolate, treats and all your favourite holiday tunes to sing-a-long with. We will also be projecting the lyrics onto a screen, so no more fiddly music books.
This year, we'll also have a pop up market on site with free fruits and vegetables while supplies last.
Please dress accordingly for the weather – this is an outdoor event and it can get chilly. Hope you will join us, sing some songs and have fun!
FREE Trips to Mic Mac Mall
For People Ages 55+
We are doing two FREE trips to 
Mic Mac Mall
 for people ages 55+ in December. Ride in comfort and don't worry about the busy parking lot. Drop off and pick up times at the mall are as follows:
Friday, December 1st – 10 a.m. to 2 p.m.
Tuesday, December 5th – 4 p.m. to 7 p.m.
We have limited seats available for these trips. Call 902-883-4716 or e-mail ehcrdispatch@gmail.com to book your seat.
Under 55 and would like something similar? Let us know in advance and we can arrange a trip with a per person rate. Thanks and happy shopping!
First Community Meal of the Season!
Every year we look for ways to help feed the community when we put the Elmsdale Community Garden to sleep for the winter. Thanks to the generous support of three amazing ladies based at 
Corridor Wellness
, we'll be holding our first Community Meal on Wednesday, December 13th from 11:30 a.m. to 1 p.m. at the 
Nine Mile River Community Hall
 (7160 Highway 14).
What is a Community Meal? It's a FREE meal cooked by our garden team and served up drive-thru style. This time, we're serving up turkey soup and a sandwich. Community Meals are first come, first served until we're out of food. We also happily accept donations, which allow us to hold more Community Meals and feed more people each year.
This meal is also available via delivery through the East Hants Community Rider. Please note that this is only available to those without access to transportation – if you have a ride, please go to the Nine Mile River Community Hall. Delivery orders must be booked by Tuesday, December 12th with a cut off time of 3 p.m. To book for delivery, please call the Community Rider at 902-883-4716.
Thanks again to Darlene Therrien, Kayla O'Neil and Dr. Leigh Fisher for helping us bring this event to the community through our Corporate Support Program. Stay tuned to our newsletter and Facebook page for upcoming Community Meals in 2024.
Know a business that likes to give back to the community? Tell them to support a Community Meal and get recognized for helping us create another tasty meal:
phone: 902-883-1608
email: 
communications@communityrider.com
Everyday English Classes
Do you or someone you know want to improve their English? We have a free community English class that is open to learners of all levels. Classes are Thursday mornings from 9 a.m. to 11:30 a.m. at our office, 224 Highway 214 in Elmsdale.
Every week, we discuss a new topic, introduce vocabulary, ask questions, watch videos to test listening skills and much more. The goal is to get comfortable speaking, reading and writing English on a wide variety of topics.
Interested in joining in? Everyone is welcome! Please get in touch so we can have a seat ready for you. Due to the mixed levels of learners in the class, some topics may be more challenging than others.
Low Income? Need a Ride?
Apply for our Fare Assistance Program
The 
East Hants Community Rider
 has a program available for individuals that needs help accessing transportation for a reduced cost. The Fare Assistance Program reduces the price of transportation to $5 for rides within 12 km and 50% off costs over 12 km for one day per week.
To qualify, an individual must make less than $35,000 per year or a couple/family must make less than $60,000 per year.
To apply, please visit our website and fill out an application form. We also require a copy of an applicant's 2022 Notice of Assessment. This can be sent via e-mail, dropped off or sent to our office (224 Highway 214, Suite 101, Elmsdale, NS B2S 1J7), or picked up by one of our drivers.
This program will be available until March 31, 2024 or until the fund is fully expended. Thank you to the province of Nova Scotia's Department of Public Works for this support. It enables us to help those that need it most and make our region more accessible for all residents.